Professional Austin Movers
Time to move? Looking for an experienced and efficient moving company in Austin? Then look no further than 3 Men Movers! We are committed to creating a stress-free move that fits your schedule – how many moving companies can say that? While we can't make 35 move any faster during rush hour, we can control the timeliness of your move before and after we hit the road. We aren't the new kids on the block. 3 Men Movers has been moving Texas families and companies since 1985- and we've been in Austin since 2014. Austinites love us – just check out our Yelp reviews. We are your one stop shop whether you're moving from a South Congress apartment, a home in the Greenbelt, or a corporate office downtown.
Based on

2424

customer reviews
Don't just take our word for it, take a glance at the principles that set us apart from other Austin moving companies.
---
EXPERTISE
Our crews have an average of 5+ years experience and handle 100,000+ moves each year.
SAFETY
With free floor protection, blankets and shrink wrap we can safely transport pretty much anything.
24/7 HELP
We're early birds and night owls. If you've got questions, we've got answers.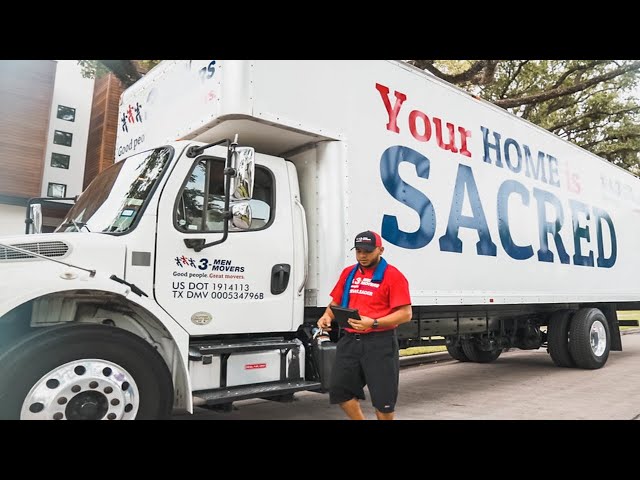 Moving never looked so fun…
Make sure to also check our Youtube channel to learn our tips and tricks for moving.
Youtube Channel
Ready to move?
Give us a call at (512) 357-6683 or request a free quote and we will get back to you.
Get My Free Quote
AUSTIN MOVING SERVICES
From 48 foot moving trucks to portable containers to packing, we've got all the bells and whistles so you won't have to lift a finger
We offer professional packing services that free up your valuable time. No more late nights getting ready for the move, and even better…no more living out of boxes once you're in your new home – you'll know exactly where to find your Spurs jersey.
Help Me Pack
We offer the most convenient portable storage on the market. Not only will our crews drop off a MOVITS storage container, they'll pack it up, and take it to our climate controlled warehouse. MOVITS save you time and energy – now how many moving companies can do that?
Check Storage Solutions
Let us super size your move ®. Our super size trucks can accommodate the average 4-5 bedroom homes, and you'll also receive four speedy crew members in place of our standard three man crew!
Help Me Move
Movers With Experience
After booking with 3 Men Movers you will be assigned a personal "Move Concierge" who has all the answers to your moving questions. Unlike other moving companies, you can call us 7 days a week. We also ensure that every moving crew comes prepared with bubble wrap, blankets, and floor coverings to protect your home and belongings from damages.
Not all homes are alike – that's why our moving company has experience navigating homes of all sizes, even apartments. Apartment moves in Austin can be tricky. You have to work around designated parking, busy Austin side streets, regulated loading areas and times, proof of insurance requirements, and the possibility of sharing an elevator with an entire building of residents. Our teams have the know-how to navigate apartment moves with ease; we are even a part of the Austin Apartment Association. To put the icing on the cake, we are insured for your protection and the Proof of Insurance can be requested on our website for your convenience.
Visit us
We proudly serve the greater Austin area. Give us a call!
---
Address:
1005 Congress Ave #151
Austin, TX 78701

Online Hours
Monday - Sunday: 7 AM - 9PM
Phone: (512) 357-6683
Office Hours
Monday - Thursday: 7am to 9:00pm
Friday - Saturday: 7am to 9:00pm
Sunday: Closed