The Woodlands - Professional Movers
Around here, we like to say "Surprises are for birthdays. Not move days.". That means you'll never catch us tacking on hidden fees, and you'll get the exceptional service required to make your Woodlands move seamless. From wrapping your furniture to protecting your floors, our expert crews will respect your home's space and rules.
While we might have a new office in The Woodlands, we are no stranger to moving. Houston is our home town and we're proud of it. Our trucks first hit the road in 1985 and now we've expanded all across Texas. Whether you're moving to a new home in Creekside Park, or to a trendy apartment in the middle of Town Center, we're ready to show you a better way to move (unless of course you're a repeat customer - then you already know our secret sauce).
Want to see something really cool? Fill out our free quote form. Not only will you be able to see our availability, you'll be able to see our hourly rates and pick your own Woodlands moving crew.
Here are just a few things that set us apart from other Woodlands moving companies.
---
Expertise
Our moving crews have an average of 5+ years experience and handle 100,000+ moves each year.
Safety
With free floor protection, blankets and shrink wrap we can safely transport pretty much anything.
24/7 Help
We're early birds and night owls. If you've got moving, packing, or storage questions, we've got answers.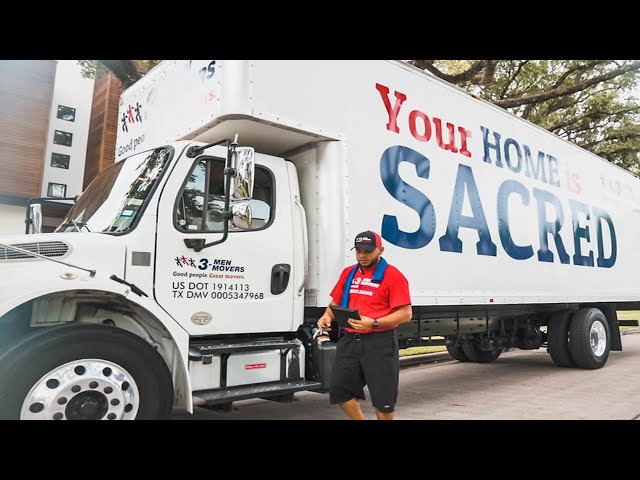 Moving never looked so fun…
You should also check out our Youtube channel for professional moving tips and packing tricks.
Youtube Channel
Ready to move?
Give us a call at (713) 771-6683 or request a free quote and we will get back to you.
Get My Free Quote
The Woodlands moving services
From 48-foot moving trucks to portable containers to packing, we've got all the bells and whistles so you won't have to lift a finger
Movers with experience
We understand that no two moves are quite the same, that's where our Woodlands moving crews really separate themselves. On move day, they will adjust to the needs of your home and more specifically you! If you've got a lot of direction to give, they are all ears. Likewise, if you don't know where to start, they definitely do.
Here are some real time reviews from Facebook, Google and Yelp, because we believe who moves you matters and let our reviews determine what moving crews stay on our fleet. We've done a lot of patting ourselves on the back, so we'll let you take it from here. As always if you have any questions at all about our services, please feel free to reach out.
Visit us
We proudly serve the greater The Woodlands area. Give us a call!
---
Address:
2001 Timberloch Pl, Suite 55
The Woodlands, TX 77380

Online Hours
Monday - Sunday: 24 Hours
Phone: (713) 771-6683
Office Hours
Monday - Thursday: 8:00 AM to 6:00 PM
Friday - Saturday: 8:00 AM to 6:00 PM
Sunday: Closed